Product > Cyclone Separator
Introduction
Cyclone dust removal is a preliminary filtration device for air purification system. The cyclone series of Kaisen has rational design, simple structure and adopts axial access type. Treatment of air flow is 3 times that of common cyclone dust removal, and air stream is distributed evenly.
Features
● It is easy to install and maintain. The equipment investment and operating costs are low. It is suitable to be preliminary filtration treatment for air purification systems to protect and elongate the life span of filter cartridge in air purification system.
● The mesh in the fume inlet is stainless steel mesh sintered with PTFE membrane, which is conducive to capturing and settlement of large particles and sparks. The mesh is a patented product of our company.
● It intercepts big flying particles moving with fast-flowing air stream, and make them fall into the dust collector directly, filter out big particles and flammable substances in the first place, thus greatly elongate filter cartridge's life span.
Applications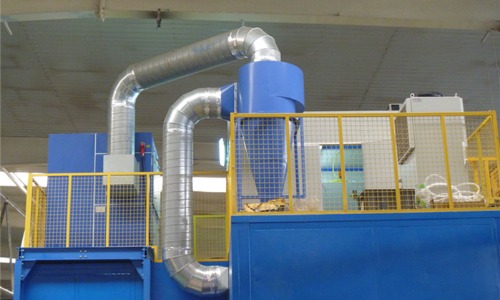 Central fume extractor with cyclone separator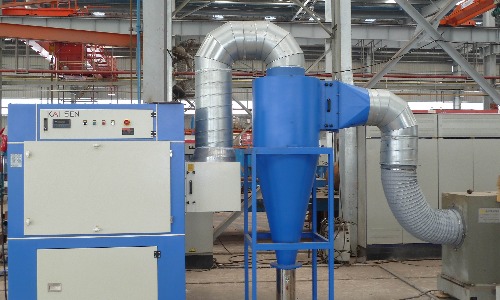 Plasma cutting steel pipe cyclone separtor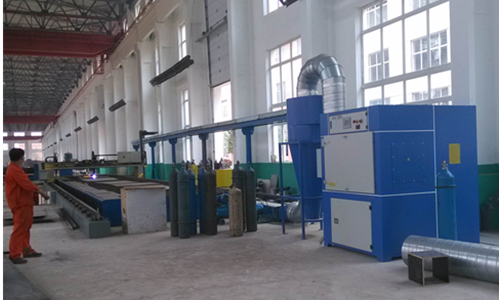 Plasma cutting fume cyclone separator
Parameters
| | | | |
| --- | --- | --- | --- |
| Model | Vent Air Flow | Air Inlet & Outlet | Dimension (LxWxH) |
| KSXF-150 | 1500~2000 m³/h | Φ150 mm | 470x506x1479 mm |
| KSXF-200 | 2000~3000 m³/h | Φ200 mm | 637x687x1750 mm |
| KSXF-250 | 3000~4000 m³/h | Φ250 mm | 769x812x1941 mm |
| KSXF-300 | 4500~6000 m³/h | Φ300 mm | 846x878x2323 mm |
| KSXF-350 | 6000~7000 m³/h | Φ350 mm | 1178x1302x2818 mm |
| KSXF-400 | 7000~8000 m³/h | Φ400 mm | 1170x1146x2610 mm |
| KSXF-450 | 9000~10000 m³/h | Φ450 mm | 1222x1312x2563 mm |
| KSXF-500 | 10000~13000 m³/h | Φ500 mm | 1253x1435x3642 mm |
| KSXF-550 | 16000~17000 m³/h | Φ550 mm | 1467x1594x3972 mm |
| KSXF-600 | 20000~22000 m³/h | Φ600 mm | 1754x1706x4180 mm |
| KSXF-700 | 25000~30000 m³/h | Φ700 mm | 1253x2655x4502 mm |
Video